Clean it Right now available in Saskatchewan
Wednesday, November 25 2020 01:00 PM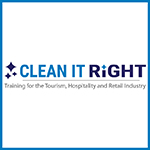 Tourism Saskatchewan's new Clean It Right program is a convenient online training tool for tourism businesses. It helps them implement clearly defined policies and procedures for cleaning and disinfecting facilities.
Clean It Right was established in response to the COVID-19 pandemic to increase the safety of guests, visitors and employees. The training helps to regain consumer confidence and provide reassurance to customers. Businesses are able to clearly demonstrate their commitment to safety and cleanliness.
The online course, available 24-7, is delivered through three custom modules that address the needs of specific industries:
Accommodations, including hotels, motels and bed & breakfasts

Restaurants and food services

Retail businesses
To earn Clean It Right Business certification, a property must have all cleaning staff complete the program. Designated businesses are authorized to display a Clean It Right window decal and electronic logo to reassure the public of a clean and safe environment.
The program is being provided by Tourism Saskatchewan free of charge to all Saskatchewan businesses.
Enrol staff in the training here. For more information, contact Kari Burgess at 306-933-5913 or 1-800-331-1529, kari.burgess@tourismsask.com.
Clean It Right is supported and endorsed by the Retail Council of Canada, Saskatchewan Chamber of Commerce, Saskatchewan Hotel and Hospitality Association, Service Hospitality and Tourism HR Canada.
The program was developed by the Manitoba Tourism Education Council (MTEC) and launched there in May. Since then, the course has been adapted for use in Yukon, New Brunswick, Nova Scotia, Prince Edward Island, and Newfoundland and Labrador.