Educators' Resources
Educators' Resources for teachers, post-secondary educators, and career and guidance counsellors. Tourism Saskatchewan develops information and activities to help students learn about the tourism sector and the visitor economy in Saskatchewan and to understand the job and career opportunities available.
---
Explore Tourism Careers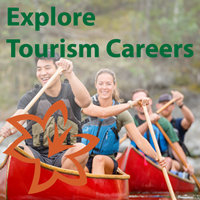 Explore Tourism Careers is an interactive online presentation that provides teachers, career counsellors and high school students with an overview of the career opportunities available in the tourism sector in Saskatchewan.
The presentation explores four areas that answer students' and teachers' most-asked questions about building a successful tourism career:
What is tourism?
Who makes this happen?
Why should I choose a career in tourism?
Career exploration.
To get started, add the free Explore Tourism Careers presentation to your shopping cart, complete your checkout, then launch the presentation from your online learning plan. You can leave and return to the presentation at any time, and there is no limit on the number of times you may use it.
This online resource always contains the most up-to-date information and is revised regularly.
Teachers' Tool Kits
High School
Activity 1: Tourism Careers
Each student is asked to select an occupation in the tourism industry. Examples include: cook, tour operator, hotel front desk manager, food and beverage server, etc. The students are asked to deliver a PowerPoint presentation on the career that they have picked to present to the class.
Activity 2: Advertising
Each student is asked to pick a tourism business (e.g. hotel, tour operator, museum, etc.) and create and print an advertising poster to promote the business.
Activity 3: Tourism Business Plan
Students must create a business plan to start a new business in one of the following categories: restaurant, accommodation, or adventure sport tourism.
Activity 4: Customer Service Interview
Students are asked to interview a professional who works in a front line customer service role. A list of suggested questions is provided to help students conduct their interviews. Students may work individually or be divided into groups. Written or video interviews may be conducted.
Middle School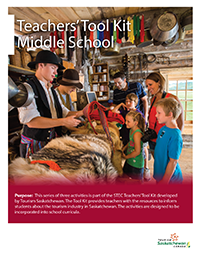 Activity 1: Tourism Profile
The students are instructed to create a tourism profile of one of the following:
A tourism destination in Saskatchewan (e.g., Cypress Hills Interprovincial Park, Prince Albert National Park, etc.)
A tourism experience in Saskatchewan (e.g., fishing on Lake Diefenbaker, canoeing the Churchill River, etc.)
A tourism attraction in Saskatchewan (e.g., restaurant, golf course, museum, etc.)
Activity 2: Tourist in my Town
Create a storyboard of how you would spend one day as a tourist in your own town. Students will present their storyboards to the class.
Activity 3: Map Quest
Students are asked to choose a travel destination in Saskatchewan.
Activity 4: Tourism Marketing
Students create a tourism marketing video of a town/city. Students may be divided into teams to complete the project.
Grade School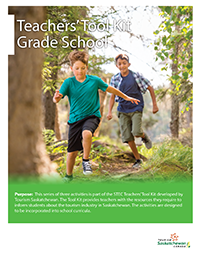 Activity 1: The Seasons
The students identify the different seasons in Saskatchewan and list outdoor activities, indoor and outdoor sports and games that they can play or do in that season.
Activity 2: Travel Guide Search
Students are asked to use the Saskatchewan Discovery Guide to answer a series of questions.
Activity 3: Colouring Book
The colouring book allows students to demonstrate understanding that the arts are a way of expressing ideas.
Activity 4: Tourism Word Search
Students find words hidden in a grid. Three word search lists are provided, each with a higher degree of challenge.
Customer Service Skills Development for Students
Seven out of 10 young people get their first job experience in tourism related employment. For students working part time or preparing to enter the workforce after graduation, customer service training provides life-long, transferable skills. Tourism Saskatchewan developed Service Best for High Schools and Service First for High Schools to give students valuable skills to last them a lifetime.
Service Best for High Schools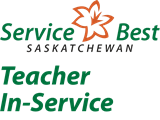 The Service Best teacher in-service certifies educators to deliver Service Best in their schools and is designed for teachers at the high school level.

Service Best helps service professionals create memorable customer experiences in a world of rising expectations. The workshop includes units on first impressions, perception, and communication. Students examine their current practices and personal barriers to service, identify opportunities to improve internal service, are provided with an opportunity for self-assessment, practice techniques for handling difficult situations, adopt strategies for service recovery, and build an understanding of the customer life cycle. The workshop provides practical and effective tools for getting the most out of your daily interactions at home, school, and work.
By the end of the Service Best workshop, students will be better able to:
Apply a pro-active, solution-focused approach to customer service
Use persuasive speaking and reflective listening to encourage positive conversations
Adopt a positive attitude to improve your ability to provide customer service
Employ strategies to help you work through difficult situations in real time
Service First for High Schools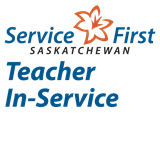 The Service First teacher in-service certifies educators to deliver Service First in their classroom.

The Service First workshop introduces students to the basics of customer service and helps prepare them to enter the workforce. It includes units on tourism in Saskatchewan, being a professional, and customer service. Students will explore the value of tourism, ways to identify what customers want, and how to exceed their expectations. They will examine what it takes to adopt and maintain a positive attitude, how to communicate more effectively, and how to control negative behaviour and stress.
By the end of the Service First workshop, students will be better able to:
Inspire a positive first impression for visitors
Source and share what there is to see and do in their community
Demonstrate and maintain a positive attitude
Control negative behaviour and make more positive choices
Communicate more effectively
Show their professionalism when dealing with challenging customer interactions.
Infographics, Statistics and Research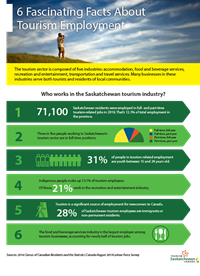 Our Statistics and Research page provides a wealth of high quality and timely data and insights. The Tourism Labour and Employment section of that page includes infographics on tourism employment, tourism apprenticeships. There are also regional profiles, leisure and travel trends, and other research.
Go to the Statistics and Research page now.
Find out more
For information about resources for educators, please call the Saskatchewan Tourism Education Council (STEC) toll-free at 1-800-331-1529.