Tourism Saskatchewan Travel Literature
The 2020 Saskatchewan Travel Guide is available to display and to share with visitors. Order your free bulk quantities of the guide by submitting the Bulk Order Form to patti.peesker@tourismsask.com. The 2019-2020 Official Saskatchewan Road Map is also available.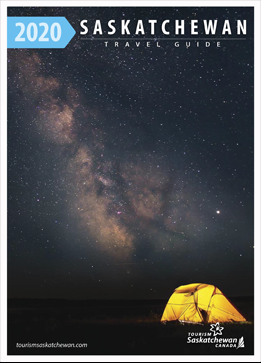 Featuring engaging copy and impressive photographs, the 40-page Saskatchewan Travel Guide offers top travel suggestions in southern, central and northern Saskatchewan, as well as holiday highlights in Regina and Saskatoon. Each section has event information, winter content and feature articles that put the spotlight on the area's key experiences – from hidden gems and outdoor adventures to top-notch dining.
For added convenience, conceptual maps in each section include Saskatchewan regional, provincial and national parks, as well as major attractions throughout the area. An extensive index provides travellers with contact information for the businesses, attractions and events mentioned in the guide.
To view the guides in PDF format online, visit the Travel Guides and Maps page on TourismSaskatchewan.com.