Saskatchewan Tourism Week May 24-30
Thursday, May 21 2020 10:30 AM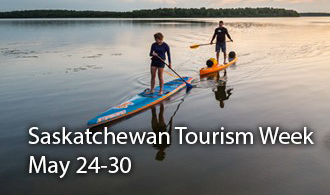 The Government of Saskatchewan has proclaimed May 24-30 as Saskatchewan Tourism Week. The week coincides with Tourism Week in Canada, which brings attention to the importance of a vibrant tourism sector and the economic benefits generated through travel and tourism.
The timing of Saskatchewan Tourism Week corresponds with the gradual re-opening of some of the province's tourism businesses and resources, including parks and campgrounds. The week is an opportunity to showcase stories of creativity and resilience, acknowledge support among communities and broaden understanding of the diverse nature and important contributions of Saskatchewan's tourism sector.
Tourism Saskatchewan will take full advantage of digital marketing channels and tactics to share stories that highlight the tourism industry as well as community support during the COVID-19 pandemic. Industry operators are invited to post videos and images of their own operations/customers, using the hashtags #SKTourismWeek and #ExploreSask.
Videos will be released on Tourism Saskatchewan's Facebook, Instagram and Twitter channels throughout the week. Tourism industry operators and stakeholders are encouraged to share this content on their social media channels and websites. Sharing content assists in amplifying the Saskatchewan tourism message to a wider audience, ensuring that travel within Saskatchewan is top of mind for residents.