2020 Employers of Choice keep designations through 2021
Tuesday, July 07 2020 02:30 PM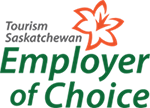 All tourism businesses in Saskatchewan have the opportunity to be recognized as Employers of Choice. Fulfilling the requirements and earning the title demonstrates a commitment to empowering staff and enhancing the workplace culture.
In response to the COVID-19 pandemic, all 2020 Employers of Choice will keep their designations through 2021.
No new applications to the Employer of Choice program will be accepted in 2020. In 2021, Tourism Saskatchewan will launch a revised program based on industry consultations throughout the past year.